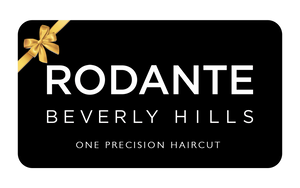 Get Men's Haircut Gift Card: Why Rodante Styles' is the Ultimate Choice for Its Customers
At Rodante Styles, we are a team of hairstylists who are true artists in their craft. Each haircut is an exquisite masterpiece, carefully tailored to suit our client's unique features and personalities. With their magical touch and unrivaled expertise, our hairstylists transform every customer into a walking work of art.
To get a men's haircut gift card and make your special someone's day special, you should connect with us!
When you wish to show appreciation for your special someone, a gift card is all they need!
The Ultimate Gift For Your Father
Show your dad how much you care with a Rodante Gift Card. Treat him to a premium grooming experience that goes beyond the ordinary. It's a gift that speaks volumes of your appreciation and love, allowing him to indulge in luxury and style.
A Remarkable Choice for Birthdays and Groomsmen
Searching for the perfect birthday gift that stands out? Look no further. A Rodante on Rodeo Gift Card is the epitome of sophistication and elegance. And for grooms looking to shine on their big day, our gift card ensures they'll step down the aisle looking their best.
Conquer Difficult Hair Challenges
Finding the right stylist can be a game-changer for those with challenging hair. Our skilled hairstylists at Rodante Styles are experienced in handling various hair types and textures. With the Rodante Gift Card, you're giving the gift of transformation, turning difficult hair into a masterpiece.
Embrace the Change of Style
Change can be refreshing, especially when it comes to hair. The Rodante on Rodeo Gift Card is an opportunity for your loved ones to confidently embrace a new look. Our hairstylists are adept at understanding personal preferences and suggesting styles that resonate, resulting in a refreshing and stylish transformation.
Get the Best Haircut With Us
If you're searching for the best haircut experience, look no further than Rodante Styles. Our commitment to excellence, premium products, and skilled professionals make us the ultimate destination for impeccable style. With the Rodante Gift Card, you're giving the gift of the ultimate haircut experience.
Trust Us For Offering A Memorable Hair Spa Experience
We believe that every customer deserves personalized attention and care. Our hairstylists take the time to understand each client's desires, lifestyle, and unique needs.
At Rodante Styles, we spare no expense regarding the quality of our products. Our customers indulge in top-of-the-line hair care products that nourish and revitalize their hair, leaving them with a luxurious and healthy mane.
Rodante Styles: A Grooming Retreat
Visiting Rodante Styles is not just a haircut; it's a rejuvenating escape from the stresses of everyday life. Customers immerse themselves in a serene environment where pampering and relaxation are the order of the day. They leave our salon looking fabulous and feeling revitalized and refreshed.
Give The Gift Of Love: Exclusive Membership Privileges
We value our loyal customers and believe in rewarding them. Our exclusive membership program offers many benefits, including priority booking, special discounts, and access to private events. It's our saying "thank you" for choosing Rodante Styles.
Have A Great Experience: The Rodante Difference!
We understand that hair is more than just strands; it's a form of self-expression. Our hairstylists take great pride in helping customers make the most of the gift by discovering their unique style and embracing their individuality.
From classic cuts to bold transformations, we encourage our customers to dare to be different.
It's not just a haircut; it's an experience that transports them to the heart of fashion and luxury.
Connect With Us On A Journey of Confidence
Above all, at Rodante Styles, we believe a great haircut can improve a person's confidence. It's not just about looking good; it's about feeling empowered and ready to take on the world with a renewed sense of self-assurance.
In a world where trends come and go, Rodante Styles remains a timeless haven for those seeking exceptional grooming and a touch of luxury. Our commitment to excellence, artistic vision, and personalized care make us our cherished customers' ultimate choice.
Discover the magic of Rodante Styles and embark on a grooming journey like no other.